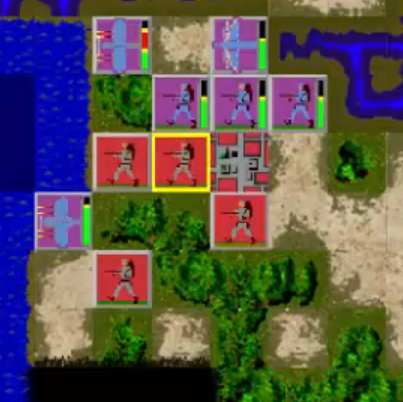 (Screen Grab of You Tube Video of WWII Mod)
I do not have a great deal to report at this time, which is a good thing. Lucky build #13 seems to be very stable, and only some rare edge case/minor issues have cropped up. So I do suspect the time for the end of Early Access draws nigh.
WWII Weasel has been quite prolific with his WWII mod. On Reddit:
https://www.reddit.com/r/EmpireDeluxe/
He provides links to two different sets for play. Also on Reddit he has posted a video of the mod to show some of the different units.
I do not know what AI he was using there, but it was not very aggressive. Even though a mod like this seems built with PvP play in mind because of the number of new unit types, I have definitely enjoyed playing it and learning the units using the Expanding AI player for an explore and conquer game. I would recommend that for those wanting to give it a try and learn the units. This is a ranged fire fest!
On the subject of the AI DLLs, there is definitely more interest in both the AI open source and the World Building source as I have confirmation from a few people that they have been able to build the AI and World Building components for themselves. The information contained in this Steam thread :
https://steamcommunity.com/app/742700/discussions/0/1696043806564552535/
has proven useful to people wanting to build both AI and WB Dlls. Seeing that wall being cracked tells me that hopefully over time we will see some exciting measures in this space, and take advantage of more complex mods like WWII.
So for you C# coders out there, the water is fine, please jump in!
Get Empire Deluxe Combined Edition