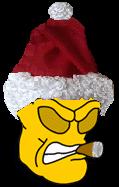 With the New Year time here, my expertly crafted and designed marketing tool, Santa Sarge, makes another appearance. Now an almost 20 year tradition, you can feel the subliminal urges that he casts upon you to play Empire Deluxe. Though he is definitely late this year due to a 'real life' event, he is always happy to show his mug.

We have now logged an entire year since the release of the Combined Edition. The great news is EDCE is included in Das Tactic's strategy games list for this year. I always enjoy Das as he is not a carefully crafted marketing tool, but actually plays games he likes in a very detailed way. His list has many titles, and there are a few in it that I do not have that I am going to look over.
You might find some things that appeal to you from his list as well:
So wishing you a happy and healthy 2019!
Get Empire Deluxe Combined Edition