Another Map and a World Viewer.
---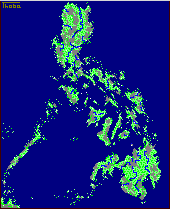 This is just a short update to say that today I submitted a map of the Philippines made by Thoba that a fan of his sent me. It is not very large, but it does make for an interesting game. It can be downloaded in the Map/Scenarios section under the "world" creator.
If you have a map you find interesting or really enjoy, you should consider uploading it for the rest of us to try. This can be done through the Maps/Scenarios section as well.
Also, if you have unit sets or other things to share with us, please post a note in one of the forums.
Andrew Young is working on a program to make a more detailed World View map than the one provided in game. I believe it is a Windows only program. If it is still up, the details and program can be found here:
https://drive.google.com/open?id=1o0ulxMjRKlrUmVVzpDu4CQJKNP35EZBw
Look for EDCEShowMap.exe . I should disclose that this is his own work and not that of Killer Bee Software, and what great work it is! Andrew usually hangs out in the Yahoo forum. A link to that forum as well as other community locations can be found here: https://www.reddit.com/r/EmpireDeluxe/wiki/index
I have a been holding off on Build 13 to see if I get any more bug reports to come in. Things do seem pretty stable and I suspect we will see that build in a couple of weeks.
--Mark
Get Empire Deluxe Combined Edition