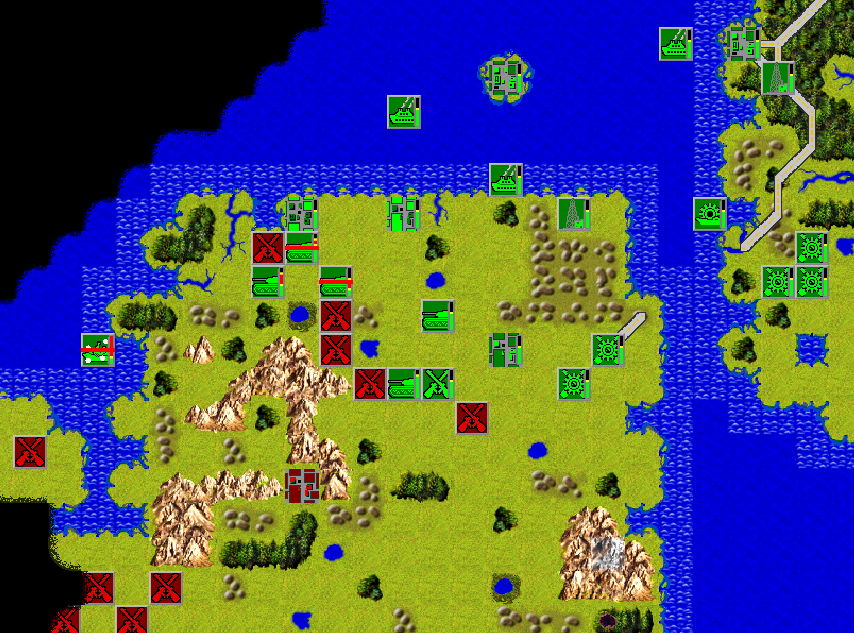 I am moving closer to Build 009, but we are not there yet. However, I wanted to bring out a couple of feature adds that are coming up with Build 009 - Because I am excited about them and I want to give you a heads up!
The first is Unit Set Modification Asset Directories. It has become very evident to me that those working on unit sets really want to do more and add images and sound to their mods. However, the idiot that wrote the game did not take this into account, and made the modification of images and sound on a global level, not specific to any one Unit Set. This made the sharing of unit sets more difficult when such things were needed.
To resolve this, each unit set will now have an assets folder, where the unit set maker can place images and sounds (unit name files as well) to augment the unit set. Then the new unit set can be sent to others simply by zipping up the core data file for the set and the asset directory. It will make sharing and distribution much simpler.
The second feature, but certainly not the least as you can tell by my in-game announcement banner, is that Build 009 will also have Map and Scenario sharing. This sharing will be cross-platform and independent of whether you are using itch or steam to play. The interface and method is very simplistic, but I did not want to use something like the Steam Works API as it would dissect the community between Steamers and Itchers, and the "C" for combined in EDCE must have true meaning! So hopefully we will be able to share map/scn creations this way.
Build 009 is now entering my internal testing, but I doubt it will surface until next week. But as a slick promotional trick I have already updated the online manual at http://killerbeesoftware.com/edce/code/manual/EDCE.pdf (Itch users should also have the updated file in their accounts). The write ups are not that exciting, but the Unit Set asset description is around page 106, and info an a couple of screen shots are available around page 98.
My hope is these two feature additions will help facilitate more sharing within the community. I see some pretty interesting stuff being formulated. Let us in on the fun!
--Mark
PS:
(there is another small, but new feature hidden on one of the Production Dialog screenshots/descriptions).
Get Empire Deluxe Combined Edition