Build 05 has been released. This is a quick release mainly due to client display errors in games that have the Enhanced AI player and do not use the stacking rule.
The entire patch list is available here: http://killerbeesoftware.com/edce/dev . No changes were made to the AI or WB source code.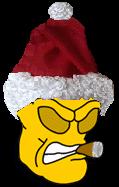 The holiday time is coming soon. Is Santa Sarge going to visit anyone this year?
--Mark
Get Empire Deluxe Combined Edition