Itch User's Guide For Updating Your Game
---
Being DRM Free has its cost, and essentially that means updating the game is up to you. I have a plan that will hopefully make things trouble free.
First, you will get a little yellow text notification on the Main Menu Screen that there may be something available for you. If you have tied your download to an itch account, I believe you receive an email as to the update as well.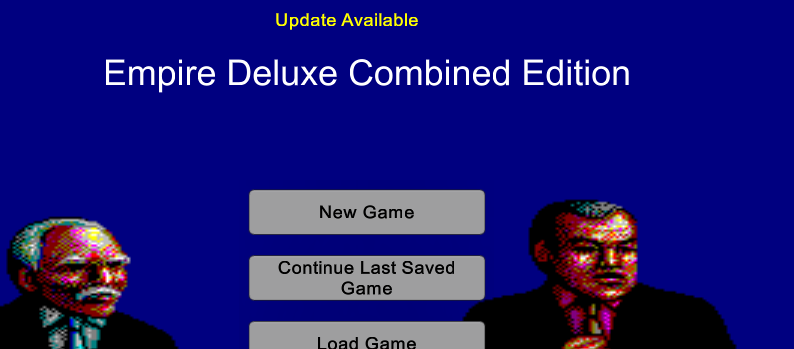 If this is the case, go to your download link and pull down the new zip file of your choosing.

Remove the old files where you had put them, and unzip the new stuff to there like you had done before. All your saves and such are stored somewhere else, so they won;t get lost.
This is all you have to do as long as you have not used the AltPath.txt file to redirect you Data Directory. (most people will not do this). If you have, then you need to replace that file or any other in the proper place for it to run correctly.
Play the game and you should have the new build.
As we are starting the EA period, there should be several updates applied to the game. If you do not think they are affecting you, you may give it a little bit of time before updating. I have started a patch notes patch:
http://killerbeesoftware.com/edce/dev/
--Mark

Get Empire Deluxe Combined Edition
Comments
Log in with itch.io to leave a comment.
How or were do I load or find the WWII files?
I may try to help, with a step by step approach, but only for PC Windows 10.
How to update the game: Build 18
1/2 - updating the game
2/2 - updating the [SAI_NUM_NEUTRAL_ATTACKERS][2] AI
1/2 - First download the file:
EDCEWindows64.zip or EDCEWindows32.zip
The Zip file contains 1 folder: win64 or win32 enter the the folder...
There are 3 files. keep this folder open and just move it apart.
* Look on your desktop for the Icon normally used to launch the game: Empire Combined Edition
Original name should be: EmpireCombined.exe - Shortcut
Right click on the desktop icon - the second top voice is - Open File Location
Despite the install location, you should have three files:
1 Folder - EmpireCombined_Data
1 File - EmpireCombined.exe
1 File - UnityPlayer.dll
(Note: These three are the same files that should be present in the zip file. that we moved apart).
Back to - Open File Location... current Game directory location:
Select the 3 files and delete them (yes remove the 2 files and 1 folder).
From the zip file select the 3 files, and drag them in game folder.
Ok - The game is updated - Now you may try to launch the game, and see if it works.
End 1/2
2/2 - updating the [SAI_NUM_NEUTRAL_ATTACKERS][2] AI file
Finding this folder location may be tedious, a easy way is to:
Open the Hdd where the game is installed: in my case is C:
press F3 and in top right search box: type - StandardAi
Press Enter... and wait... While a green bar scrolls.
You may have more files with this name, the one that we are looking for is:
Folder: long... bla bla bla... "KBSW\EmpireDeluxe\unknown"
please see print screen below:

1 right click on this file and - open file location.
This is a Txt file with no extension - StandardAi
Note: If you use standard window notepad... it may create the unwanted .txt extension. (We don't want this extension)
If possible download Notepad++ (free to use editor) or be aware that the notepad will add the StandardAi.TXT
This said, edit this file: we are looking for this string:
[SAI_NUM_NEUTRAL_ATTACKERS [2]
and we want to add after _ATTACKERS (a missing bracket)
Note: No space between ][2]
[SAI_NUM_NEUTRAL_ATTACKERS][2]
Save file as it is, and you're updated
End 2/2
Hoping this may help
I am not clear on which old files I am to remove where I had put them. Can you provide another line or two of directions for installing?
need assistance in updating game. Not a geek. saw yellow update on game and can not locate where to go to get game fixed. AI has fatal errors.
If you were a kickstarter supporter you would use the link you were originally sent to get the game. From there, you pull down the zip you need. The zip is not really a patch/update, it is a replacement. Your game data is stored in a separate location and will not be lost when you replace the game.
If you were a KS supporter and do not still have your link, send me an email.
--Mark
There are instructions at the download link on how to do this.
Can't get the update. Not going to use STEAM. How do I connect EDCE to ITCH to get the email with download link.
Use the email you use for the itch purchase here: