Itch User's Guide For Updating Your Game
---
Being DRM Free has its cost, and essentially that means updating the game is up to you. I have a plan that will hopefully make things trouble free.
First, you will get a little yellow text notification on the Main Menu Screen that there may be something available for you. If you have tied your download to an itch account, I believe you receive an email as to the update as well.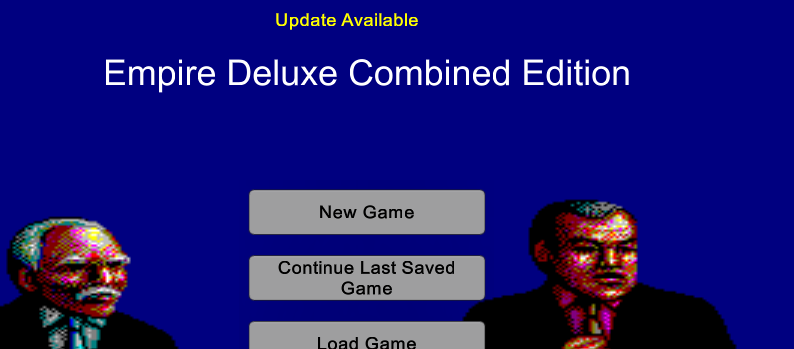 If this is the case, go to your download link and pull down the new zip file of your choosing.

Remove the old files where you had put them, and unzip the new stuff to there like you had done before. All your saves and such are stored somewhere else, so they won;t get lost.
This is all you have to do as long as you have not used the AltPath.txt file to redirect you Data Directory. (most people will not do this). If you have, then you need to replace that file or any other in the proper place for it to run correctly.
Play the game and you should have the new build.
As we are starting the EA period, there should be several updates applied to the game. If you do not think they are affecting you, you may give it a little bit of time before updating. I have started a patch notes patch:
http://killerbeesoftware.com/edce/dev/
--Mark

Get Empire Deluxe Combined Edition
Comments
Log in with your itch.io account to leave a comment.
Can't get the update. Not going to use STEAM. How do I connect EDCE to ITCH to get the email with download link.